Link is short for Hyper-link, and simply means that when the viewer clicks on it it takes them to a different website or blog. This could be because you and another business exchange some sort of advertising (like a saddle shop and a stable) or because you left a comment to a blog, or wrote something for someone with a link in your byline.
Or, if someone likes your website, they might make a link to it in a Facebook or blog post. All of these are links, and the search bots use them to determine which pages are connected to which, and how many times that has happened.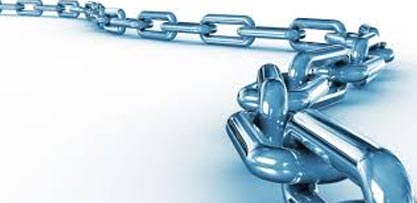 Believe it or not, back in the day (pre-2012)  search engines placed the most emphasis on the simple number of sites that were linking back over to your site - if you had 10,000 links, it some what did not matter where the links came from, it would increase rankings in search results.
Then Google introduced their Penguin algorithm, robot links, link farms and other black hat linking and SEO practices started to be largely discounted. In fact, bad links from spammy websites  can severely get your website demoted or even removed from Google's index. Most SEO Consultants have discontinued these types of search engine optimization tactics because it's become well known even in the mainstream that Google penalizes websites based on each website's inbound link profile.
Making sure that you have good link coverage is still essential for ensuring a high ranking in the search engines, but there is much more emphasis now being placed on the quality of the links and the page the link is coming from. In this method of rating pages, the PageRank of the page where the link originates carries a much larger factor in the algorithm as far as ranking is concerned.
There are several subcategories of links:
Organic or natural links
This is the type of situation we touched on above - when someone links to you through no action of your own.
Manual/Targeted Link Building
Manual link building generally involves social links and submitting the website to high ranked directories. Targeted link building does not create as many links, but they have a much higher value.
Self-promotional
This type of link involves things like signing a guest book, blog comments, user profiles, social media and more. If done properly they can help an overall strategy, but these have been severely downgraded because of the high rate of spam links that pervaded this type of link.
Organic links are obviously the best ones of all - somebody liked your company good enough to send people that come to his website to you. There can't be a much bigger compliment in business. These are nice when they happen, but it doesn't happen often.
Manual and targeted link building practices are most often practiced by an SEO company (Search Engine Optimization), but can often be put in place by anyone with a little patience and effort. There are several strategies to build links.
With modern SEO, things like bulk directory submissions and social bookmarking don't do enough, you won't out rank your competitors with those tactics alone. They can form part of an overall search engine marketing strategy. For long term the best SEO is high quality content, unique compelling content that isn't easy to produce, that is going to be the way to make sure you're at the top of the search engines for years to come, otherwise known as sustainable search engine optimization.
There are three simple things that you can do, all of which are approved by Google - and all of which depend on good content. That is a blog, the website and presence on social media. Use the blog to write good, informative pages about your industry - how to tips are always great, or why you use a certain brand of tools.
The blog would bring in both the website, your Facebook page, as well as other social media pages for your business and it would link to them in a completely organic way. It is also a good idea to link outwards to other sites. This can be done with sources, or products you are reviewing, or other peoples' blogs. Every time you do this you stand a chance of them linking back to your website or blog in one way or another. No to mention it can help the relevance of your website if you are linking over in balanced amounts to other authoritative websites that your page is about.
Blogs also play a big role in another way, and that is by guest writing on another person's blog - say, the industry trade blog or if you are a programmer you could do a tutorial on how to write basic HTML code, or the best way to transfer an old, damaged photo to a digital print. It could be anything, but if the subject is related to the subject of your blog it is much more valuable.
This does several things. The blog in your by line is a direct link back to your blog or your website (or both - many blogs allow guest bloggers two links in the author's bio). This is rated as a very high quality link by the new search engine standards (assuming the blog you are guest posting at is well rated).
It serves other purposes than as a link for the search engines to follow. If you are a fashion magazine and you guest post at a dress shop's blog, it is a natural for both businesses. They don't compete for the same customer, but they both have the same customer. There are many businesses like this, and many more blogs that cover just about any subject you could imagine.
It is a great way to find a very targeted audience that is interested in your field. The link allows them to go directly to your website if they liked what you had to say. Be wary though, direct sales tactics simply don't work - the content has to add value to be accepted at the best blogs, and for readers to want to follow the link back.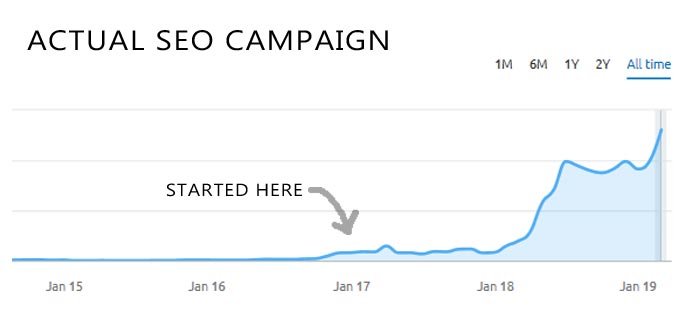 Content is More Important Than Ever.
In the old days of organic website ranking (SEO) was largely based on the quantity of inbound links and the words that the link used to link back to a website. It was like the wild west or gold rush days when more than several entrepreneurs figured out how to offer links as a products and some links were worth more than gold! For a PR8 one way link a company might pay $2000 a month? $3000 a month? Or even a one time fee of $300 for a link buried deep on a PR7 or PR8 website. This type of link selling goes on even as we are approaching 2020 but since it's frowned upon by Google and against their terms of service, any ethical Portland SEO Consultant would warn you to stay away from such link building services.
Article or press release marketing is another way to build high value links, but only in small amounts. Content marketing such as this should only be used in addition and along side of other link building techniques but never solely relied upon for all inbound link building. Like the blog, they are slower but they last a lot longer, and the relative value is much higher. In article marketing, once more content is paramount but not as critical as blog posts usually are.
However, it does have to be well written highly relevant material. The article is then submitted to an article distribution website like PRWeb or PR Newswire, and if accepted they place it in their search engine hierarchy, where it can be found by searches. This can also be a high quality back link especially if there are media outlets that pick up on your press release.
All these SEO strategies can be put in place alone if you have the time and link building budget, or parts of building links can be outsourced to Local SEO Companies or National SEO firms. Just keep in mind that building slow, organic, high value links may take longer but in the end pays off with higher ratings and a better online community. It's not the quantity of links that counts, it's the quality.